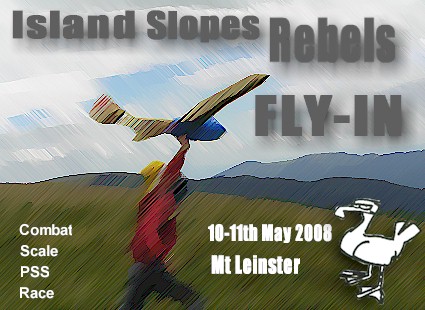 So, here it is !
Our first glide-in for the year (second one in September !).
The meeting will be held on 2 days ! Too much things to do, and that will allow pilots coming from all over the country to have a rest and enjoy flying as much as possible !
This year, we are going European, as we will have the visit of Vincent and Joelle Besancon (Retroplane), and guest pilots from Northern Ireland, France and Germany !!
Week-End program :
Saturday 10th.

Morning :
Arrival and pilot briefing at 10am
Free flights
Afternoon :
Combat + Race. Slots will be allocated depending of the number of pilots for each categories.
Free flights... and Pub !

Sunday 11th.
Morning :
Scale - Static judging + flights
Free flights or if needed, slots for previous day finals
Afternoon :
Free flight and return home.


Combat : Well, no rules ! Last man standing wins ! 2 Categories in combat, Flying Wings and PSS. And a big mélée for the fun.. Or if there are some gliders still alive !
Race : F3F type race (100mtrs course, 10 laps, fastest wins) or 60" type course (100mtrs course, 10 laps, 2 gliders racing each others)
Scale : Any scale/semi scale gliders. Modern and Vintage. For the static judging, that will be done really quick and simply ! The only documentation needed will be a 3 views, and 1 or more photos of the original. Fly realistic, no programs. Score will be made by fellow pilots.

Event's photos :