Nano Floh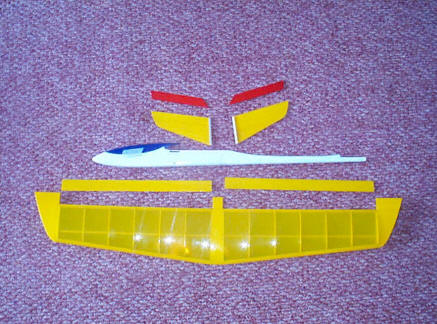 My new toy !! :o)
Wingspan 0.78m
Wing Area 7.00dmē
Wing Section SD something... I cannot remember...
Weight 70g (empty) around 150g fully equiped
Wing Loading 10.71g/dmē
Number of Channels: 2 (ailerons, and elevator)
This is the smallest model from the Nano family. This is the perfect model to bring absolutely everywhere. A 2mts slope, no pb, enjoy !
The model is finish and wait for the first flight (will come soon !). The construction time ? Around 2 hrs ! cool isn't it ? Micro equipments everywhere of course !
Some others Nano Floh are available in my local model shop (http:\\www.greenhobbymodel.com)
The V tail. The angle is already cut.
The fuselage is a perfect molded piece ! No defaults in mine.
More photos will come soon !!