Ok, so, for the "Sport" scale stuff, I always do the panel lines with a marker. Works relatively OK, in a way that this is easy to do, but on my Fouga Magister, despite using a top coat of varnish, and using really expensive markers, the lines tend to disappear over time. Sun, maybe fade them away, or scratches.
Anyway, after a fair bit of use, they do not looks great! So I was always looking at an alternative, and tape came to mind.
I used succesfully I must say, trim tapes for the cars. The only drawback, is that the tape is usually 2 or 3mm wide minimum and pretty tick also. So it looks good from a distance, but not so good close by!
Anyway, I stuck to drawing lines.. Until now!
I finally found the tape I tought did not existed. And cheap on top of that! (for the cost a one pen, I got 20 rolls!)… So, what is that stuff?
Nails tape! (don't ask how I got the idea 🙂 )
This tape is used by nails saloon to do fancy stuff on the lady's, well, nails! They come in a lot of colors, even reflective, rainbow shinny ones! Anyway, as a test, I ordered 20 rolls! Cost me about 15 euros all in. If I remember, they are 4m rolls.
So, what does it looks like?
It looks like tape 🙂 So thin, it's almost transparent when looked on its side. Surprisingnly enought, the backing looks like aluminium, but it's not. It is actually vinyl, so sound like good stuff!
Mine is given for 0.6mm wide, and that looks pretty spot on.  It can take curves very easily, and it's hard to break! Very sticky also, at least on plastic covering, but only time will tell. I am going to order more, and even some coloured ones (I'd like some dark grey,, but with balck, and some white, it might be possible to give some panel lines a 3D effect!).
I used it for the first time on my A10 Prototype PSS, and so far, very happy with it. Kind of give it the "RTF Effect" without its final decals 🙂
Anyway! 🙂 What does it looks like? Well, a very very thin roll of tape!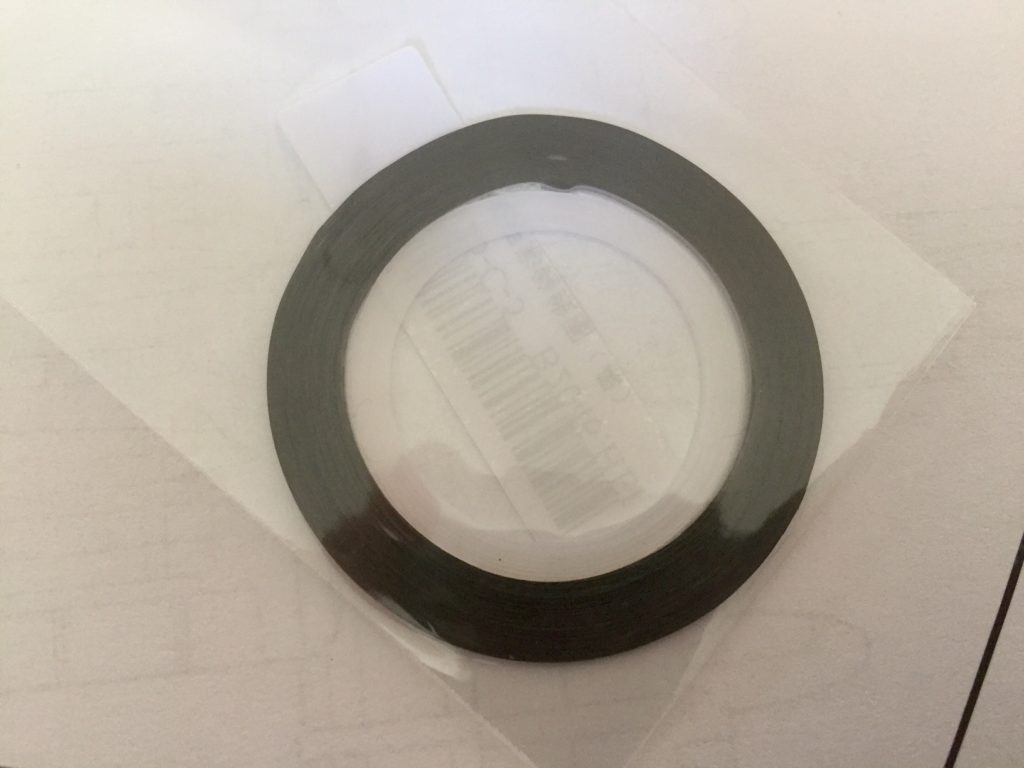 Here is a test of curves
The pencil tip gives you the size:
And applied on a wing.. Neat! 🙂 :